Demi-Fine Jewelry: Affordable Elegance for Your Everyday Look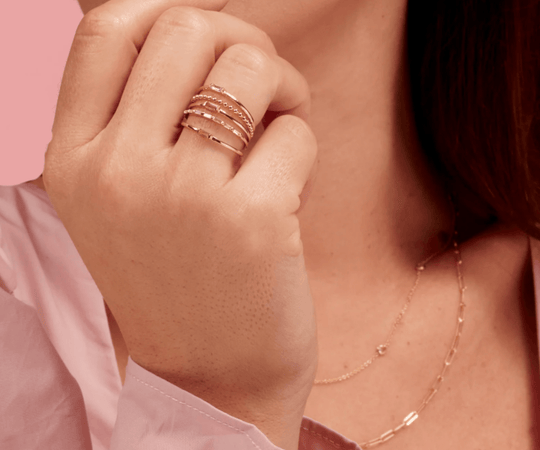 Demi-Fine Jewelry is growing in popularity and is one of the fastest growing categories of jewelry in 2023. If you've ever wondered about the perfect middle ground between pricey fine jewelry and costume jewelry, the answer is Demi-Fine Jewelry. Demi-Fine Jewelry, or "bridge jewelry" as some call it, is all about the sweet spot between quality and price, making Demi-Fine Jewelry a great affordable way to elevate your everyday wardrobe.  Demi-fine jewelry places its focus on crafting trend-driven, affordable pieces utilizing precious metals.
According to research conducted by Globe Newswire, the Demi-Fine jewelry market had an estimated value of around 1.92 billion in the year 2021, and is projected to experience significant growth, reaching an approximate worth of 6.5 billion by the year 2030. The study attributes this growth to several key factors, including jewelry enthusiasts to buy Demi-Fine jewelry as a means of expressing their unique personal style. Additionally, the market's growth it attributed to the accessibility of Demi-Fine jewelry as a gift option, thanks to its easily gift-able price point range typically falling below $500.
Let's break down its characteristics: 
Quality Materials: Unlike cheap costume jewelry, which is typically made from base metals or alloys, Demi-Fine pieces are made with higher-quality materials like sterling silver, 14k or 18k gold, and semi-precious gemstones. This means your jewelry won't tarnish and will ensure longevity. At LeMel, our Demi-Fine Jewelry Collection is a curated collection of earrings, bracelets, rings and necklaces that are all made of 14K gold and semi-precious stones. 
Crafted with Precision

: Demi-Fine Jewelry is all about craftsmanship. Skilled artisans design and create these beauties, paying attention to every little detail. Demi-fine jewelry pieces are intentionally designed to be delicate and less bulky, offering exceptional versatility for everyday wear. 
Affordability: The magic of Demi-Fine is that it's affordable. You can buy a piece that looks and feels luxurious without breaking the bank, while also knowing you are buying a nice piece of jewelry that will last. Most pieces fall under $500 retail and are made with 14K gold. 
Versatile Style: Whether you're a minimalist or a vintage lover, Demi-Fine Jewelry has something for you. You'll find modern, classic, and eclectic designs, so you can choose pieces that match your style and the occasion. Classic 14K gold huggie earrings are a great everyday earring to add to your collection. Or if you're looking for something unique, the Penelope Pearl Hoop earrings are an excellent choice. 

Why Choose Demi-Fine?
Attainability and Affordability

: Demi-fine jewelry offers a taste of luxury without breaking the bank. It's an excellent choice for people who want to invest in quality pieces without the high price tag of fine jewelry. It's a great attainable option for premium quality jewelry. 
Everyday Wear

: Many Demi-Fine pieces are designed for everyday wear. They're durable and can withstand the rigors of daily life, making them ideal for those who want to elevate their style on a daily basis.

T

hink timeless hoops, simple chains and delicate necklaces. 
Meaningful Gifts: Demi-Fine Jewelry makes for thoughtful and memorable gifts. Whether it's a birthday, anniversary, or special occasion, these pieces convey a sense of thoughtfulness and elegance.
We have rounded up some of our favorite Demi-Fine pieces. 
Demi-Fine Jewelry is all about making quality and style accessible. It's a fantastic option for anyone who wants to build their jewelry collection with timeless, well made pieces. 
Shop our Demi-Fine Jewelry Collection.